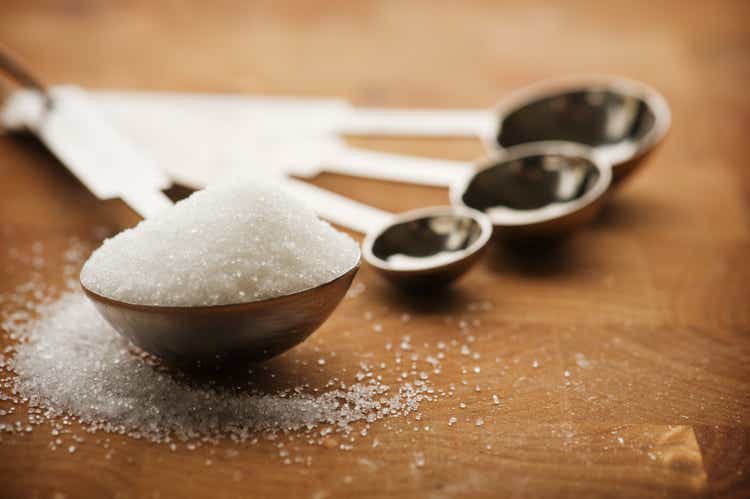 Whole Earth: Reinvesting and Reducing Debt Should Be Priorities
Since my first post, Whole Earth Brands (FREE) stock price has fallen almost 17%. I believe this decline is caused by gross margin concerns and two large investors selling 2% of the company's stock in the last quarter. However, as I explain in this article, I think these concerns are overblown and instead we should be watching closely how the business deploys the cash flow generated, will use that cash flow for FREE to reinvest in the business. , buy back shares, repay debt or acquire property?
3Q21 results
In November 2021, FREE published its 3Q21 results. Overall the results were good, I liked the revenue growth and cash flow generation, but the inclusion of the private label business had a negative impact on the gross margin. Revenue increased 6.1% organically to $128.9M, the brand segment increased 7.6% and the flavor segment increased 1%. As FREE grows its distribution points, I expect the CPG segment to grow by high numbers. According to the flavor segment, even 1% growth is pretty good. First of all, it is a very mature market and FREE has 60% of this market. FREE was able to offset the decline in the tobacco trade with other sectors and even grow it on a net basis.
Gross margin decreased from 42.2% to 33.6% due to the inclusion of Wholesome's private label business which has a lower margin. More importantly, during the quarter, we saw strong cash flow generation from operations of $16 million.
Institutional investor activity in 4Q22
Decline in share price in December may be due to Neuberger Berman and Vanguard selling 422,000 and 355,000 shares respectively, or 2% of the company's stock, in 4Q21.
However, two-thirds of the top 25 institutional investors added to their position, in total this group acquired 1.8 million shares or 4.6% of the shares to own 71% of the company, the top 10 investors in holding 48%.
It seems that the sale of these shares took place at the end of September and the end of November by checking the history of volumes. It seems that other investors have taken advantage of these declines to strengthen their position.
Cash deployment
We should track how management decides to deploy free cash flow. Here is my take on the four options.
Mergers & Acquisitions
SPACs have a bad reputation for compensating managers to acquire companies at all costs, and this is a risk in this case. However, on the 3Q21 earnings call, Irwin Simon toned down his desire to get out now for more M&A. He expressed his desire to first reduce leverage and capture synergies from recent acquisitions before seeking other transactions. However, he left the window open mentioning that they are still open to visit potential targets with "good growth and good EBITDA". I think deploying the cash flow to acquire businesses at a reasonable price would be acceptable.
Reinvest in current business
This is my preferred route to deploy the money. Former owner Ron Perelman did not invest in the business and instead used free cash flow to pay down debt. So I think there are plenty of fruit opportunities within reach with good yields. They could invest the money in expansion of distribution points, innovation, optimization of the supply chain or on systems to help integrate all acquired businesses.
Share buybacks
While stocks are cheap and buying back shares would increase the value per share in the short term, I think this is a short-sighted alternative. This option should only be considered when the company does not have better investment options, such as in a mature market. But with the low penetration of sweeteners in the sugar industry and low penetration in emerging markets, buying back shares would not be ideal for long-term investors.
Pay off the debt
As of September 2021, net debt was $379.8 million, or 4.6x net leverage assuming they meet their 2021 EBITDA target. New acquisitions at this level of debt are risky because any miscalculation or miscalculation leaves the company in a bad spot with little or no access to capital markets. Therefore, management's plan to reduce leverage to below 3x is encouraging.
Evaluation
Using an unleveraged beta of 0.85 for the CPG industry and an optimal debt-to-equity ratio of 35%, consistent with the net leverage forecast of 3x, the estimated WACC for FREE is 7%. I estimate the value per share at $30, flat from my previous estimate. In the short term, I reduced gross margin due to the inclusion of the private label business, but this was offset by G&A savings.
As for revenue, I expect it to grow 9.6% in line with industry growth. For FREE to reach the $1 billion revenue goal, they would need to acquire one or more businesses. I expect gross margin and general and administrative expenses to improve gradually to reach the levels of around 37% and around 23% respectively thanks to all the initiatives already in place such as pricing, productivity initiatives, supply chain improvements and synergies from the merger of acquired companies.
Conclusion
FREE is a company with great strengths in a growing industry. In order to crystallize the value of these assets, management must demonstrate to the market a disciplined approach to capital allocation. They should use free cash flow to reinvest in the business, reduce debt, and only for mergers and acquisitions at a reasonable price.