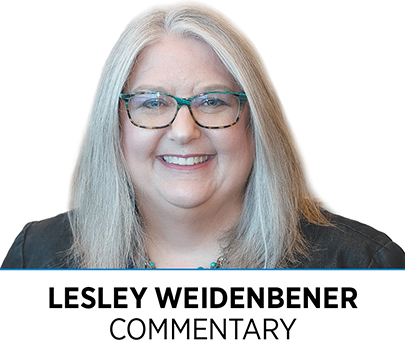 Lesley Weidenbener: The jury function is a civic duty which is also educational
I'm on a jury this week in a Marion County civil case that I can't tell you anything about, although I really, really would.
It took a toll on my week, mainly because of my poor planning. And the truth is, I wasn't that worried about planning around that. Conventional wisdom says lawyers don't put journalists on their juries. We can be overly skeptical, critical and frustrated with the way someone else asks questions.
But on Monday, after a brief wait in the boardroom of the City-County building, and then a host of questions from attorneys trying to determine if the potential jurors could be fair, I was among seven (six jurors and a deputy) having sworn to hear a case which, again, I cannot speak to. It really kills me.
But I can tell you a little bit about the experience of being a juror (although I'm writing this before I have to sort out what I think is a difficult judgment).
First, the jury duty is really a civic duty. I believe deep inside, despite my worry about telling a good friend that I couldn't help her pick out her wedding dress on Monday and telling the IBJ publisher that I wouldn't be able to moderate a long-planned event on Thursday. I know that our justice system depends on plaintiffs and defendants having their day in court, with the right to have their cases reviewed by their peers. It is the backbone of our democracy.
But second, jury service is an amazing learning experience. I have spent many hours covering hearings and court decisions. Yet seeing a trial from a juror's perspective opens a whole new window into the process. And I was impressed by the jury coordinators, the lawyers, the judge and especially the bailiff, the person with whom the jury spends the most time chatting and who was particularly kind and helpful.
And, finally, I really appreciate my smart and savvy fellow jurors. It is a group that is alarmingly racially non-diverse. In Marion County, where 28% of residents are black and 11% Hispanic, it is inconceivable that a jury would be all white, but my group is just that. I promise to write more about this in a future column, once I have had a chance to do some research.
But in other ways our group is quite diverse. There are three jurors aged 30 and under: a debt collector, a bank examiner, and a university maintenance worker. Three of us are over 50: me, a man who works in finance at a company that makes bicycle tires and another who is retired after working for the US Department of Defense. In between, we have an IT specialist who works in a fast growing tech company.
Each juror carefully follows the case, takes notes and asks questions. (Yes! Indiana jurors can submit questions to witnesses, which the judge will determine whether to ask them.) We're juggling big binders of evidence (COVID means at least there's a seat between each of us, which I use almost as a table).
As of this writing, we are days away from delivering a verdict, which will be difficult. But without a doubt, the experience was well worth the inconveniences and frustrations. So, the next time you get a juror notice, try to view it less of an embarrassment and more of an opportunity to perform a key duty of our democracy. It's worth it.•
__________
Weidenbener is editor-in-chief of IBJ.