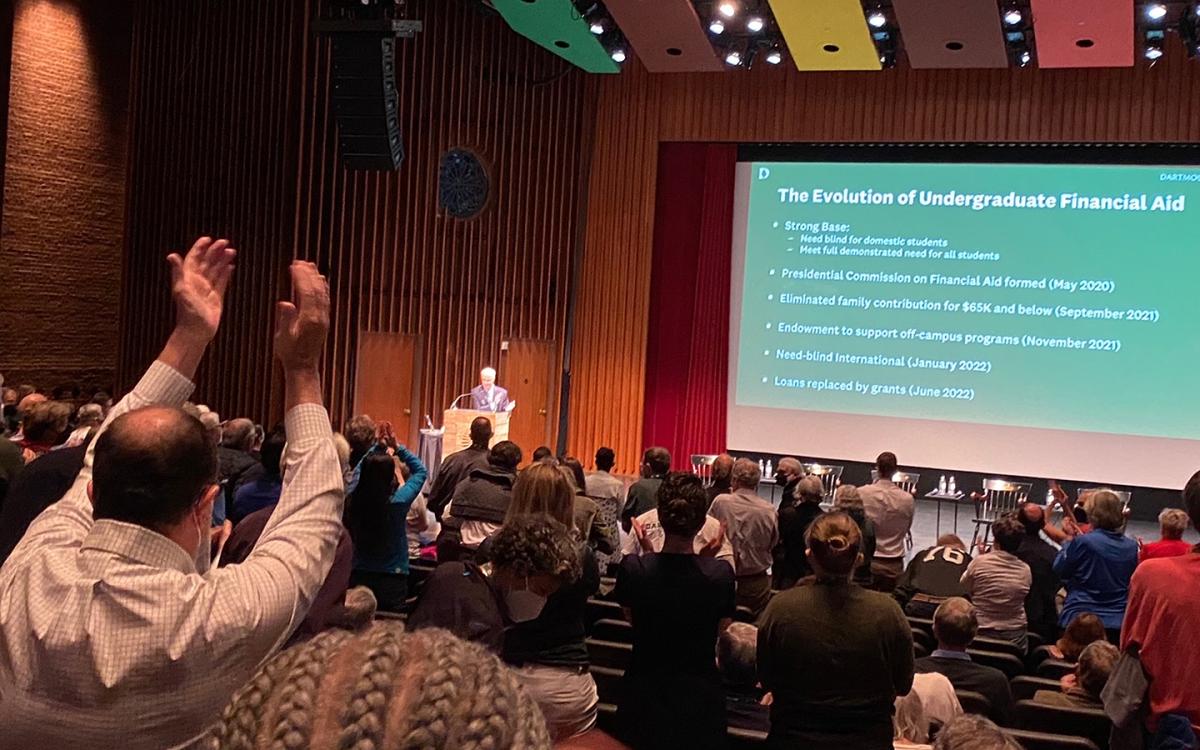 Dartmouth eliminates student loans for undergraduates
Donating financial aid through The Call to Lead campaign has reinforced Dartmouth's commitment to making a college education accessible and affordable to the most promising and talented students around the world and from all economic backgrounds.
"Thanks to this extraordinary investment from our community, students can prepare for lives of impact with fewer constraints," says President Hanlon. "Eliminating loans from financial aid programs will allow Dartmouth undergraduates to pursue their purpose and passion in the widest possible range of career opportunities."
Two recent donations capped efforts to eliminate student debt through the campaign. In May, Anne Kubik '87, a member of the President's Commission on Financial Aid and an early supporter of the initiative, added $10 million to an earlier pledge to bring the effort closer to reality. An anonymous donor then committed $25 million to complete the campaign, establishing one of the largest scholarship endowments in Dartmouth history.
"Our gratitude for these extraordinary acts of generosity knows no bounds," said President Hanlon.
"Both donors have told me of their enthusiasm for ensuring that more applicants can pursue an education at Dartmouth without worrying about their financial means."

– President Philip J. Hanlon '77
Currently, Dartmouth undergraduates from families with annual incomes of $125,000 or less and with typical assets are offered need-based aid with no loan component required. Dartmouth now waives the loan requirement for undergraduate students from families with annual incomes over $125,000 who receive need-based financial aid. This will reduce the debt burden of hundreds of middle-income Dartmouth students and their families by an average of $22,000 over four years. This will in turn open up opportunities for recent graduates to consider career opportunities or higher degrees that they might not otherwise have been able to pursue.
More than 65 families have supported the campaign's goal of eliminating loan requirements from Dartmouth's undergraduate financial aid scholarships, committing more than $80 million in donations to the endowment.
"This gift honors Dartmouth's tradition of service," says Kubik.
"Over the years, I've been fortunate to serve alongside alumni who dedicate hundreds of hours to making Dartmouth stronger for future students. The presidential commission embodied the best of this altruism of the elders. Dartmouth is more welcoming than ever because of it.

-Anne Kubik '87
Successful applicants to the Class of 2027 will be the first undergraduate students to enroll through this historic investment in Dartmouth's endowment.
Over the past week, members of the Dartmouth community have rallied to pledge an additional $5 million to eliminate required loans in financial aid scholarships for all current AB students, many of whom have seen their university experience disrupted by the global pandemic. President Hanlon thanked several families for their commitment to extending the no-loan policy to current students: Dana Banga and Angad Banga '06; Leslie Davis Dahl '85 and Robert Dahl; Katherine Dunleavy and Keith Dunleavy '91; Karen Frank and James Frank '65 (in honor of Peggy Epstein Tanner '79); Julie McColl-McKenna '89 and David McKenna '89; Hadley Mullin '96 and Daniel Kalafatas '96; Robin Bryson Reynolds '91 and Jake Reynolds '90; and Victoria Ershova and Mike Triplett '96.
"Dartmouth's commitment to meeting 100% of demonstrated need for all students is longstanding and a source of pride," says Lee Coffin, Vice Provost, Admissions and Dean of Admissions and Financial Aid. "These new policies reinforce this deep and enduring commitment to full and equal access to an education in Dartmouth. Expanding scholarships by removing loans from all aid programs further levels the playing field as we invite students from all socio-economic backgrounds to join the Dartmouth community.