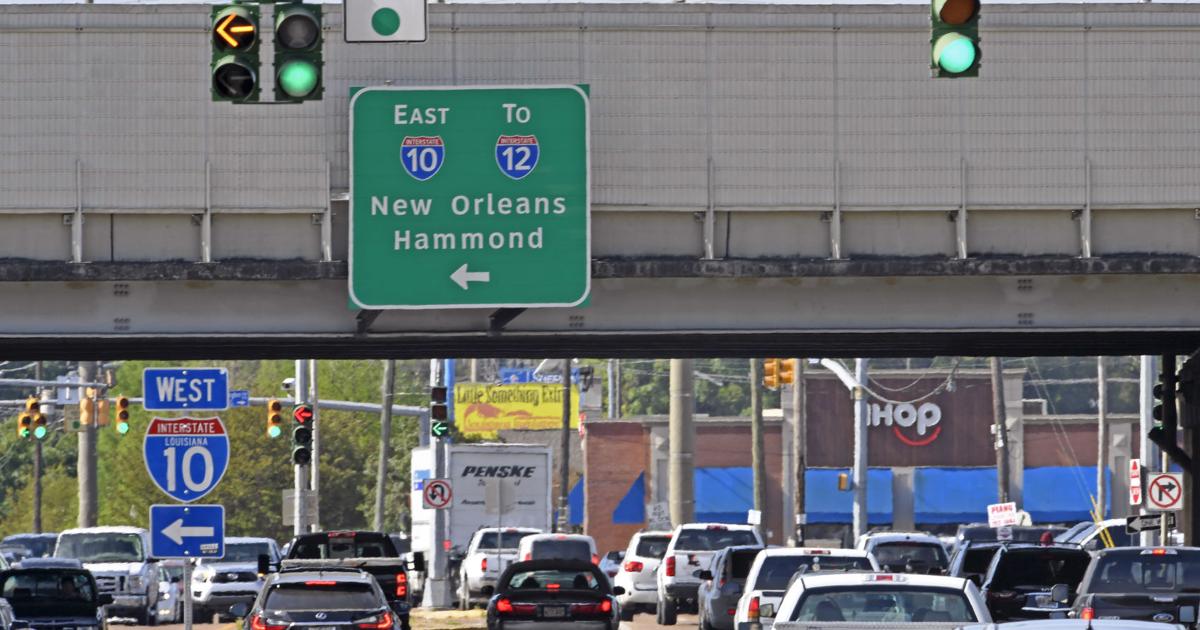 A traffic stop resulted in fines of $4,342. In Louisiana, justice benefits. | Legislature
Engrid Hamilton remembers being annoyed when the blue lights flashed on Loyola Avenue near New Orleans City Hall.
"I hadn't gotten a ticket for years," Hamilton said. But she wasn't wearing a seat belt, so she knew she would have to pay the piper.
She was surprised to learn that her driver's license had expired, as had her insurance — $647.50 in tickets she couldn't afford.
The tickets began a seven-year odyssey, during which fines and fees rose steadily to $4,342.50.
State law allows courts to impose a 20% surcharge on defendants on top of the total outstanding charges as a collection fee. District attorneys can add an additional 20%, while probation and parole can levy an additional 10% and the Debt Collection Office can impose a 25% surcharge on defendants.
A welder by training, Hamilton was unable to find work because she could not produce a driver's license. Eventually, she got help from the Justice and Accountability Center of Louisiana to clear the tickets. She got her permit and went back to work.
Fines, fees are piling up
The Justice and Accountability Center recently closed 1,796 cases involving 439 people and more than $1 million in costs in Orleans Parish alone, said Sarah Whittington, Hamilton's attorney.
"I don't know if they understand the reality that someone living in poverty or in a low-wage job faces when they receive these fines and fees," she said.
Pulling another case at random, Whittington pointed to the costs of jury fees – jurors do not sit for traffic cases – and building security fees as well as other costs that increased traffic fines to such a point that this client would have to work 62.3 hours to pay off the debt.
"Although I am a firm believer in the principle of 'user pays', some of them often show up in court and simply cannot pay exceptionally high fines, fees and costs," the chief justice said on Tuesday. of Louisiana Supreme Court, John Weimer, in his state of justice. address to a joint session of the Legislative Assembly. "For too long, our state has shifted the costs of our state court system to local government and done so with fines, fees and costs to keep the system afloat."
An 800-page investigation by the Louisiana Supreme Court, released in late January, shows that fines and fees account for about 75% of revenue collected in municipal courts and about half of state district court funding. Courts had $234 million in total revenue last year.
Louisiana Court Funding
Because no one really knows how much each of the courts relies on fees and fines, the Legislature last year passed a law requiring courts to report their income and expenses to the Supreme Court. No one had a chance to verify the accuracy of the high court submissions.
The Office of the Legislative Auditor points out that only a small fraction of user-pay costs are captured. The office is looking for additional fees sent to various agencies. Approximately 1,555 entities collect fees of any kind through the courts, including all 64 sheriffs, 18 child advocacy agencies, 78 city marshals' offices, 387 justices of the peace, and three quasi-private crime labs.
In November, Sandra Whitehead, a certified public accountant and special projects manager for the Office of the Legislative Auditor, reported that 4.9%, or 77 of 1,555 agencies, raised $70.6 million.
For example, listeners point to DeSoto Parish, home to about 27,000 people along the Texas border between Natchitoches and Shreveport.
Under local agency-compensated enforcement, driving 10 miles over the posted speed limit in DeSoto Parish results in a $100 fine. But the driver owes $267.50 after adding "legal costs". This includes $2 for Crime Stoppers, $30 for the Parish Police Jury, $45 for the Indigent Defenders Fund, and $30 for the Northwest Louisiana Crime Lab.
"District attorneys frequently enter into agreements with local and/or state law enforcement agencies to perform LACE details to enhance public safety and generate revenue. Off-duty law enforcement officers work on the details of LACE and generally receive overtime pay at the time-and-a-half rate in return for generating income by writing citations," said the legislative auditor.
The situation is further muddied by federal courts, one of which has ruled that "indigent defendants are constitutionally entitled to a neutral forum." But state law requires some judges to conduct assessments to cover operating expenses.
Possible reforms
Derisively, and perhaps unfairly, called the "road task force," the Commission on Funding the Court System was created by the legislature to find ways to transform Louisiana's user-pay system. into a taxpayer-funded system. Louisiana is one of the latest states to consider transferring the obligation to fund the courts to taxpayers.
Operational in 2019, the commission was unable to meet in person for months due to the COVID-19 pandemic and a series of severe storms.
Although the commission's progress was slowed, what upset the commission was the discovery that, for generations, the courts had developed individualized systems of fines and costs. Some sixty laws have given local courts the means to finance themselves.
Even the definitions of "restitution" and "court costs" differ from jurisdiction to jurisdiction.
The commission published its report in February but has still not been able to propose specific bills for the legislative session which began on March 14.
"We're still talking about finding that elusive source of funding to replace fines and fees," state public defender Rémy Voisin Starns, a member of the commission, said Friday.
Starns discussed several potential ways to make up for lost funding if the state stopped relying on fines and fees. Methods include raising property taxes and cutting costs by consolidating courts. But any solution must first unravel the legalities.
Starns chaired a task force that reported to the full commission that the $45 assessment that goes to fund the agency he runs — if the client is convicted — creates a conflict of interest. No attorney is going to start a case for $45, but the dispute still exists, the group's report says. Most of the funds come from traffic citations in which paying the fine is an admission of guilt.
"There are a lot of moving parts. We don't know what the solution will be, but we are working on it," Starns said.
An invoice for the change?
House Speaker Pro Tem Tanner Magee, the Houma Republican who chairs the committee, did not make himself available for interviews over a three-day period last week. But he introduced House Bill 443, which, among other technical changes, would require court hearings "to determine whether the financial obligation would cause the defendant significant financial hardship."
In recent committee meetings, Magee acknowledged that the legislature was largely responsible for the fines and fees. These bills are considered purely local matters — they don't impact the rest of the state — so lawmakers spend little time debating assuming the sponsoring lawmaker knows what's wrong. better for his district.
Courts are supposed to review new fines and fees, but usually don't because the legislature has already deemed them acceptable.
Commission member Will Harrell is hoping for legislation that would impose a moratorium on setting new fines and fees. Lawmakers have until April 5 to table bills for the annual session which runs until June 6.
"We still don't know the seriousness of the situation," said Harrell, who is also a senior public policy adviser for Voice of the Experienced, a New Orleans-based group that advocates for those who are or have recently been incarcerated. "Let's stop doing what we've done until we do it."